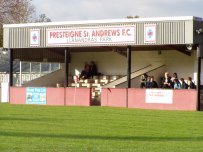 Presteigne St Andrews FC's first team will play in the Mid Wales League (South) for the 2021-22 season.
After a number of seasons struggling towards the foot of the MMP with Norman Lloyd Mid Wales League, there was a feeling among the majority of interested parties that there it would be best to take a step back and regroup.
Put simply, there wasn't the quality of player out there who was willing to commit to play in the MMP with Norman Lloyd Mid Wales League and those players already at the club made it clear they were not keen on another season battling away at the foot of the table.
Anecdotal evidence suggests that the East Division in that league will be stronger this season and so a combination of the players, manager John Haycox and the majority of committee members felt this was the right decision – although everyone agreed the primary aim is to return to Step Four as soon as we possibly can.
The Mid Wales League (South) season is due to start in September 2021 and the squad will be made up of mainly local players with the bulk coming from the Presteigne-Leominster area.
The main aim of this season will be to challenge at the top of the Mid Wales League (South) and to foster a good atmosphere within the club so players want to come to Presteigne and then – critically – stay here when they get here.
Home matches are played at Llanandras Park and usually kick off at either 2.30pm on a Saturday afternoon or 7.30pm on a midweek night.
However, such are the vagaries of the congested fixture schedule towards the end of the season that these dates and kick off times can alter.
We will do our best to keep the fixtures tab up to date – to access this, hover your cursor over the 'First Team' tab at the top of the page and then click on the relevant season's fixtures from the drop down menu that will appear.
Admission prices for home games are £3.00 for adults; £1.50 for senior citizens and £1.00 for youngsters under the age of 16.