Presteigne St Andrews 1 v 7 Machynlleth
Spar Mid Wales League, second division
Saturday, 24 November 2012
It poured down, the roads were like lakes and unfortunately we were on the wrong end of a Machynlleth 'double' – so, least said, soonest mended.
The first team were reportedly at a loss to explain a shock 7-1 home defeat by Machynlleth's first team in their Spar Mid Wales League, second division game.
This came after Presteigne had actually started the game pretty well – but we were well behind the eight-ball at half-time and, despite a Christian Roberts goal after the interval giving the home supporters a flicker of hope there might be a dramatic comeback, it was never going to happen.
This is to take nothing away from Machynlleth were were reportedly really good value for their win – my source tells me: 'We could have been two or three up early on, but then we couldn't have complained if they had scored double figures by the end of it'.
One thing is for sure, Machynlleth looked nothing like a bottom-of-the-table side and fair play to them – there are always games where you just hold your hands up and say you were beaten by a better side and, by all accounts, this was one such occasion.
Llandrindod Wells 2 v 1 Presteigne St Andrews 
Spar Mid Wales League, second division
Saturday, 17 November 2012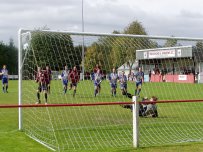 Presteigne St Andrews FC's Joe Mayglothling scored a candidate for goal of this or several other seasons, but it still couldn't prevent his side from slipping to a 2-1 defeat in their Spar Mid Wales League, second division game at Llandrindod Wells on Saturday, 17 November.
With his side 2-0 down at the break, Joe teed himself up for a goal that club chairman Alan Randell said was one of the best he has seen scored at this level for years.
"He was a good 30 yards out and he definitely meant it," said chairman Randell. "He flicked it up and then volleyed it home straight into top corner.
"It was a fantastic strike and it gave us real hope we might get something out of the game as we were far better in the second half than we had been in the first.
"We were 2-0 down at half-time but their goals both came from defensive errors, really, although Simon Hamer also made one really good save in that first period.
"I am not sure what [manager] Danny Williams said to them at half-time but it seemed to have the effect as the lads certainly stepped it up a gear.
"A Duane Anning effort came back off the bar while there were also a couple of goal-mouth scrambles where it was like pinball in there but it just wouldn't drop for us.
"All in all, even the Llan'dod supporters I spoke to felt we deserved a draw out of it but it just wasn't to be on the day.
"But Llan'dod are a good side and they are likely to be up there come the end of the season so, while it's always disappointing to lose, we shouldn't be too downhearted by this," he added.
The Reserves' game was called off this morning – they had been due to take on Talgarth Town Reserves at Llanandras Park but parts of the ground were waterlogged and so the decision was taken to postpone the fixture.
Presteigne St Andrews 5 v 2 Talgarth Town
Spar Mid Wales League, second division
Wednesday, 14 November 2012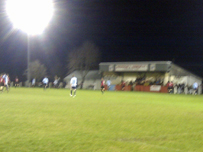 Presteigne St Andrews FC moved up to fourth place in the Spar Mid Wales League, second division table after they saw off visiting Talgarth Town 5-2 in their Wednesday-night fixture at Llanandras Park.
Danny Williams' side picked up its third win in four home matches this season to move to within two points of third-placed Kerry on whom they have three games in hand.
The top two clubs of Llanfair United and Llandrindod Wells remain some way ahead of the field, but Presteigne do have games in hand over them.
They will have a chance to put down a further marker on Saturday, 17 November when they will head to the Broadway to take on Llandrindod Wells.
It was another good night for Christian Roberts, who netted a hat-trick to make it nine goals in four games, while Adie Bennett and Brian Dyer were also on target for the home side.
Presteigne St Andrews 4 v 3 Hay St Marys
Spar Mid Wales League, second division
Saturday, 10 November 2012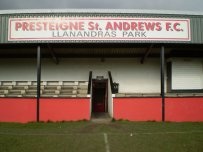 A Tom Hooper penalty five minutes into injury time earned Presteigne St Andrews a dramatic 4-3 home win over Hay St Mary's in their Spar Mid Wales League, second division match at Llanandras Park on Saturday, 10 November.
Christian Roberts once again proved just how good a natural goal scorer he is by netting a hat-trick in a match that ebbed and flowed throughout the afternoon.
Presteigne led 1-0 and 2-1, but then trailed 3-2 at one stage before Christian then completed his hat-trick to square the match once again.
It looked as though each side would have to settle for a point when Presteigne were awarded a spot kick deep into stoppage time and 'Hoop Dog' kept his composure to score from 12 yards to send the home supporters home happy.
A reminder the first team will be back in action on Wednesday, 14 November when they will entertain Talgarth Town at Llanandras Park when the kick off will be at 7.30pm.

Presteigne St Andrews 7 v 2 Maesglas
Central Wales Cup, third round
Saturday, 3 November 2012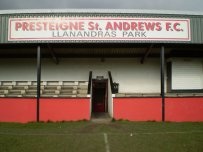 Presteigne St Andrews eased through to the next round of the Central Wales Cup after an extra-time 7-2 win over Maesglas at Llanandras Park.
In truth, Presteigne will have been left wondering why they needed extra time at all as they created a host of chances that should have seen them put the game to bed inside the 90 minutes.
Sadly they contrived to miss the majority of these, including one open goal from around only two yards.
But, when it came to extra time, the was only ever going to be one side that was going to win this one as manager Danny Williams' side netted five times.
Sam Mayglothling, Adie Bennett and Christian Roberts with a brace had Presteigne on their way while Brian Dyer was also on target with substitute Tom Hooper adding the icing on the cake when he netted twice in injury time.
Llanfair United 5 v 1 Presteigne St Andrews
Spar Mid Wales League, second division
Saturday, 27 October 2012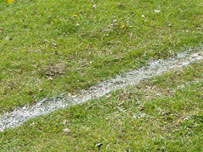 Presteigne St Andrews FC went down 5-1 in their Spar Mid Wales League match at second division leaders Llanfair United.
This was always likely to be a tough test against a side that boasted a 100 percent record from its opening seven league matches, and so it proved as Llanfair opened up a 2-0 lead in the first half.
But Danny Williams' side reportedly stepped up their game after this and got themselves back into the game when Duane Anning's through ball picked out Christian Roberts who finished to reduce arrears to 2-1.
While Presteigne played well either side of half-time, Llanfair were ultimately good value for the three points as they then opened out a 4-1 lead.
Things appeared to be going from bad to worse for Presteigne when Simon Hamer was then sent off for a professional foul and Anthony Vernalls was forced to take over in goal.
'Rambo's' first job on putting on the gloves was to face a penalty and he earned himself instant hero status by saving it.
He must have been thinking: 'This goalkeeping job is a doddle' shortly afterwards when Llanfair were awarded another spot kick and 'Rambo' saved that one as well.
But even he was powerless to deny Llanfair United their fifth goal late on as they underlined their fine start to the season and just why they look likely to be playing first division football next season.  }

Presteigne St Andrews 1 v 2 Llanidloes Town
Radnorshire Cup, second round
Wednesday, 24 October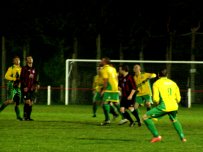 Presteigne St Andrews FC bowed out of the Radnorshire Cup at the quarter-final stage, but the squad put in a spirited performance against a very useful Llanidloes Town side who ran out 2-1 winners at Llanandras Park.
I have to admit to not being there for the first half as work got in the way, but I am told it was  relatively even, although the better chances probably fell the way of the visitors.
However, the sides turned round with the score at 0-0 and Presteigne still very much in the hunt.
The second half saw Llanidloes enjoy lots of possession but, for all that, they didn't really test Simon Hamer in the home-team goal too much until the latter stages of the game.
Presteigne were competitive throughout and put in plenty of hard work closing down the Llanidloes side with the midfield working hard to stem the flow.
Llanidloes were certainly having the lion's share of possession and there was always a concern that ultimately this might tell.
This proved the case at the mid-way point of the second period when Adriano Girolami was adjudged to have brought down a Daffs player inside the area and referee Chris Corfield pointed to the spot.
It was a strange one really as – when the challenge was put in – it wasn't as though a host of Llani players appealed for the penalty, but similarly, when it was given, there wasn't a mountain of protests from the home-team players.
The former Presteigne player Gareth  Mansell kept his cool to send Simon Hamer the wrong way and put Llanidloes ahead from the spot.
Still Presteigne battled away looking to create the opening that would enable them to get back into the game, but the ball just wouldn't drop for them in key areas – even after the introduction of Ieuan Crowe and Christian Roberts to bolster the attack.
Llani should have doubled their lead around 10 minutes from time when a driven cross from the left-hand side hit a forward and cannoned off the cross bar while Simon Hamer made a couple of smart saves in that second half.
Then, a Daffs player sprang the offside trap, rounded Hamer but somehow contrived to shoot high and wide when it looked a certain goal.
Llanidloes made it safe with around five minutes to go when they again sprang the offside trap and – with Presteigne having committed players forward in search of the equaliser, this time they made no mistake to double their advantage.
But it said a lot about the spirit of the home side's players on the night that they kept going and, from a late corner, the ball pin-balled around inside the visitors' area before eventually falling to Ryan Stokes who hammered it into the roof of the net to reduce arrears.
There was hardly time to restart the match as Llanidloes saw out the victory to take their place in the last four of the Radnorshire Cup.
On the balance of play in the second half, you couldn't really argue with the outcome, but credit to the Presteigne side for playing some good football against what is clearly a very useful Llanidloes outfit.
Borras Park Albion 5 v 3 Presteigne St Andrews
FAW Trophy, third round
Saturday, 20 October 2012
Presteigne St Andrews FC are out of the FAW Trophy after they were beaten 5-3 in their third-round tie at Borras Park Albion.
Adriano Girolami's side was 1-0 down after only 22 seconds of the game while the home side doubled the lead a minute before the interval in a first half in which Presteigne were reportedly simply never at the races.
Things improved after the break as Brian Dyer put Presteigne back in the game with a neat header and then the introduction of Adie Bennett from the bench was to reap immediate dividends.
Adie took to the field on around about the hour-mark and his first touch was a superb volley into the top corner of the net to square the game at 2-2.
If Presteigne tails were up at this point, sadly it wasn't to last as the home side then went on to net three more goals of their own before Brian Dyer scored his second of the game to make the final score 5-3.
All in all, there was no getting away from the fact the home side was good value for its win and Presteigne ultimately paid the price for a very poor first-half showing and then, after working hard to get themselves back into the game, switching off again in the second period.

Talgarth Town 2 v 2 Presteigne St Andrews
Spar Mid Wales League, second division
Saturday, 13 October 2012
Presteigne St Andrews FC came away from Talgarth Town with a point after a 2-2 draw in their Spar Mid Wales League second division match.
Early reports suggest this was almost the original 'game of two halves' with Talgarth winning the first half and Presteigne hitting back strongly after the break.
Brian Dyer and Adie Bennett were on target for Presteigne, who also had a 'goal' disallowed, although no doubt Talgarth would point to the fact they contrived to miss an open goal.
So, a point away from home for Adriano Girolami's side and they maintain their unbeaten league record so far this season.
When asked by the website for his thoughts on the Talgarth game, the Presteigne boss was far from impressed, though, by his side's performance in this one.
"Not a lot, really – I think we did well to come away with a point from that one," he admitted.
"We said during the game, at half-time and after the game that there were four of five of us who were not even out there, really.
"We were certainly not playing properly in that one and we got away with a draw."

Presteigne St Andrews 0 v 2 Penrhyncoch
Welsh Cup, first round proper
Saturday, 6 October 2012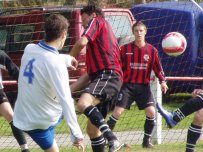 Presteigne St Andrews bowed out of the Welsh Cup at the first-round proper stage, but not before they had given a good account of themselves against Cymru Alliance side, Penrhyncoch at Llanandras Park.
Penrhyncoch won the game 2-0 with both goals coming in the first half of a game in which – for the most part – they looked exactly what they were – a team two divisions higher than Presteigne.
The visitors went in front after about 20 minutes when Danny Williams handled the ball on the goal-line, for which he was rightly red-carded by referee Chris Corfield.   They doubled their lead about five minutes later.
Penrhyncoch netted from the resulting penalty and there must have been a fear among the Presteigne fans the floodgates were about to open.
But the current squad is clearly made of much sterner stuff as they dug in well for the remainder of the game and Penrhyncoch were unable to add to their tally, despite having an extra man for around 65 minutes of the match.
Presteigne St Andrews' goalkeeper Simon Hamer reportedly pulled off a string of fine saves and was the chairman's man-of-the-match as Presteigne battled hard to find a way back into the tie.
We are taking nothing away from Penrhyncoch -fair play to them, they were a good side and deserve their place in the second round – we wish them all the best and hope they have a good run in the competition.
So, the Welsh Cup run has come to an end, but the general view from people with whom I have spoken this evening is that Presteigne more than played their part in the tie and could hold their collective head up high after giving a good account of themselves.
Bont 3 v 5 Presteigne St Andrews
FAW Trophy, second round
Saturday, 29 September 2012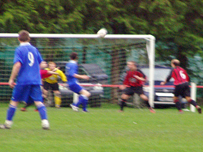 Presteigne St Andrews are through to the next round of the FAW Trophy, but they needed two very late goals so see off Bont 5-3 in their match in Ceredigion.
Tom Evans netted twice in a first half to seemingly have Adriano Girolami's side firmly in control, but Bont hit back with a goal immediately after the break.
Adam Boots then restored Presteigne's two-goal advantage as he made it 3-1, but Bont proved they are far better on their own ground than they are on their travels as hit back to score twice more to level the game at 3-3.
The rules of the FAW Trophy say the linesmen don't give offside decisions – this is solely down to the referee, and there was a strong feeling the third Bont goal was clearly offside, but it was allowed to stand.
The game was still all square as the teams headed into the final minute when Adam Boots burst into the penalty area, only to be brought down from behind.
Joe Mayglothling kept his nerve and put Presteigne 4-3 up and on their way through to the next round, but Ieuan Crowe was to have the final say as he netted the fifth Presteigne goal deep into added time.
Anyone who looked at Bont's results beforehand and thought this was going to be a relatively easy ride was in for a rude awakening as the home side made Presteigne work very hard for their win.
Presteigne St Andrews 1 v 0 Penybont
Radnorshire Cup, first round
Wednesday, 26 September 2012
Presteigne St Andrews FC are through to the second round of the Radnorshire Cup but, in truth they scarcely deserved their narrow 1-0 win over visiting Penybont at Llanandras Park.
Brian Dyer netted the decisive goal in the final 10 minutes of a dour game in which the visitors from the Mid Wales League (South) showed enough to demonstrate their Emrys Morgan Cup win of last season was no fluke.
Penybont certainly created the better opportunities in a largely forgettable first half in which Presteigne hardly had a serious shot on target – the 'bont could and probably should have gone in front on at least two occasions.
The heavy rain of the previous couple of days led to a slick surface, but there were only sporadic signs of the passing game that had stood Presteigne in such good stead when they beat Kerry in a league game 10 days ago.
The early second-half signs were more promising as Brian Dyer warmed the finger tips of the visiting keeper who made a good save to his left-hand side, but still Presteigne were well short of what manager Adriano Girolami was looking for – a point not lost on the players as 'Adge' made his feelings clear from the dug out.
The game was ultimately settled by one of the few pieces of class football on the night and it owed much to the persistence and unselfish attitude of Ieuan Crowe who got away down the left and initially did well to hold up the ball despite the attentions of a couple of Penybont defenders.
'Crowie' then picked out Brian Dyer arriving at the edge of the area who finished coolly to take Presteigne into the next round.
As someone behind the goal put it, 'The best thing about that goal was that it spared us another half-hour of that' – a bit harsh, maybe, but this was not a great spectacle and Penybont can certainly consider themselves unlucky to be out of the competition.
Presteigne St Andrews 3 v 0 Kerry
Spar Mid Wales League, second division
Saturday, 15 September 2012
Presteigne St Andrews FC continue to hold the Indian sign over Kerry whom they beat at Llanandras Park for the second time this season when they were good value for their 3-0 victory this afternoon.
In all honesty, Adriano Girolami's side should have been out of sight by half-time, but they led only 1-0 at the break, courtesy of Joe Mayglothling's excellent penalty that no keeper in the land was ever going to save.
The spot kick was given for handball and Joe despatched it right into the top corner to the point where the ball looked as if it might become wedged in the stanchion.
Ioan Hughes had a very good game down the left-hand side and his crosses caused consternation at the heart of the Kerry defence with Presteigne squandering a number of good opportunities.
Ieuan Crowe also fired in a fine cross from the right that was met by Brian Dyer's header, but again the chance went begging, while the Kerry keeper did well to tip over one long-range effort.
The general view from the sages behind the goal was this was a game that should have been put to bed by half-time and, while it remained 1-0, there was always a chance for Kerry.
Chances came and went in the second half, with Presteigne hitting the bar and the post before – with around 15 minutes to go – the home side finally got the important second goal.
A good passing move down the right ended with Adie Bennett's excellent weaving run taking him past three players inside the area from where he pulled the ball back from the by-line for Tom Evans to net from close range.
There was relief all round at this point, although there was still time for Presteigne to net a third – a ball in from the left was well met by Brian Dyer whose header came back off the cross bar and Ieuan Crowe reacted quickest to stab the ball home from close range.
Adriano Girolami did well to kick the ball off the goal-line when Kerry should have salvaged a consolation goal near the end, but Presteigne held on for a thoroughly deserved win.
While the home squad would probably agree there is still more to come from them, this was a highly encouraging performance in which for periods they played some very nice passing football.

Presteigne St Andrews 3 v 2 Glantraeth
Welsh Cup, second qualifying round
Saturday, 8 September 2012
Presteigne St Andrews FC are through to the first-round proper of the Welsh Cup after an exciting 3-2 home win over Welsh Alliance, first division club Glantraeth at Llanandras Park.
The Anglesey-based club faced a long trip south for this one – possibly the longest trip of any side at this stage of the competition.
Presteigne took the lead in the first half when Brian Dyer was on target, but Glantraeth squared the game on the stroke of half-time to send the sides in locked together at 1-1.
The visitors must have thought it was going to be their day when they took the lead in the second half, but Ieuan Crowe levelled matters for Presteigne to make it 2-2 around about the hour-mark – game on!
Adie Bennett was then brought down inside the penalty area and Joe Mayglothing kept his cool to net from 12 yards to put Presteigne back in front.
There were some nervy moments for the home side and the Presteigne supporters near the end, not least when Glantraeth hit a post, but Adriano's boys held on the win that will take Presteigne through to the first-round proper.
Presteigne manager Adriano Girolami was delighted by his side's application in the face of what had been very useful opponents.
"When they turned up in their tracksuits they looked a good squad we thought we were under pressure before the game started," he admitted.
"But once the game started and we got going we matched them in every department, really, and we came out on top.
"I wouldn't say we deserved it but being the underdogs, the boys probably worked harder than they have ever done and this paid due rewards in the end," he added.
Given Glantraeth hit the post late on, there were a few occasions in which Presteigne rode their luck, but Adriano felt they were still good value for the win.
"We won the game with three good goals and we created those ourselves – obviously we won the game with a penalty but that was deserved as it came from good pressure from us," he said.
"The best thing to come out of the game was the character we showed when – after being 1-0 up we then found ourselves 2-1 down early in the second half.
"But to come back and get the victory was obviously the most pleasing thing to come out of the game so we will all look forward to the next round now," he added.
Presteigne St Andrews will now host Cymru Alliance side Penrhyncoch in the first round of the Welsh Cup – that tie will be played at Llanandras Park on Saturday, 6 October when the kick off will be at 2.30pm.
Aberdyfi 1 v 5 Presteigne St Andrews
Spar Mid Wales League, second division
Saturday, 1 September 2012

Presteigne St Andrews FC demonstrated in the first Spar Mid Wales League second division match of the season there were goals in the side, and that was further underlined in the trip to Aberdyfi.
Adriano Girolami's side had effectively put this game to bed by half-time as they opened up a 4-1 lead with goals from Christian Roberts (2), Brian Dyer and Duane Anning had them firmly in control.
Tom Watkins then added a fifth goal after the break but the major difference between this match and the home game against Rhosgoch was that the defensive side of things was clearly better as Presteigne closed out an encouraging 5-1 win.
Manager Adriano Girolami was delighted by this result and when he reflected on it a couple of weeks later he felt this was one of those wins that would look even better as the season progressed.
"Looking at the results the following week they pulled in a 4-2 win against Rhosgoch," he said.
"That puts our 5- 5 result against Rhosgoch on the Groundhoppers day in some kind of perspective, really –  in the way that we have started the season.
"The performance from everyone at Aberdyfi was unbelievable really, when you consider the distances involved.
"I know we enjoyed a night out afterwards with all the players which was excellent because we went there for the weekend.
"But the main thing was the football and we came away with the three points but the performance that day was unbeatable really."
Presteigne St Andrews 5 v 5 Rhosgoch Rangers
Spar Mid Wales League, second division
Saturday, 25 August 2012

Presteigne St Andrews FC and Rhosgoch Rangers served up a goal-fest for the visiting Groundhoppers in the opening Spar Mid Wales League, second division game of the season at Llanandras Park.
Rhosgoch scored with pretty much the last kick of the game to take a point after referee Chris Bodenham reportedly played eight minutes of added time.
In front of a crowd of 260, things started really well for the home side who were 3-0 up in the opening 20 minutes, before Rhos got themselves on the scoresheet before the interval.
The second half ebbed and flowed with Rhosgoch pulling it back to 3-3, only for Presteigne to then open out a 5-3 lead.
But back came the visitors to first reduce arrears to 5-4, and then snatch a point with that late goal at the death in a match the was not short on entertainment but which will probably have both managers looking hard at their respective team's defensive showing.
Christian Roberts continued his good start to the season with a brace for Presteigne, while Ieuan Crowe, Danny Evans with a penalty and Adriano Girolami with a volley were also on target.
Reflecting on the game a few weeks later, Adriano admitted that, of all the early-season fixtures, this had been the one that had got away from his side.
"I'd rather not speak about that game, to be fair!" he laughed. "But I think it just goes to show we can score goals but we obviously had a tendency to let them in early on in the season.
"We obviously went down 1-0 against Kerry but we came back to win that one 4-1.
"But we have shown a good attitude in the last few games in scoring goals and trying to keep clean sheets."

Presteigne St Andrews 4 v 1 Kerry (after extra time)
Welsh Cup, first qualifying round
Saturday, 18 August 2012
Presteigne St Andrews FC progressed through to the next round of the Welsh Cup after a 4-1 extra-time victory over Kerry in their preliminary-round tie at Llanandras Park.
Presteigne reportedly started brightly and created good early chances, but it was the visitors who eventually took the lead after around 66 minutes when player-manager Adriano Girolami fouled a Kerry player inside the area and the visitors netted from the spot.
But Christian Roberts restored parity for Presteigne when he scored with around 10 minutes remaining to take the match into extra time.
Presteigne were to prove far too strong in the extra 30 minutes as Christian Roberts went on to score twice more to complete his hat-trick, whith Ieuan Crowe rounding off the scoring as Presteigne eventually ran out convincing winners.
Adriano told me he saw this as being a very good start, although he did feel they could have been well in front in the first half.
But he didn't want to come over too criticial – especially as this was the first competitive game and the challenge now is to build on that result for the visit of Rhosgoch Rangers in the opening league game next weekend.