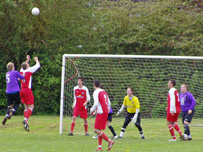 Mid Wales League (South) secretary Paul Worts has confirmed Knighton Town Reserves are to withdraw from the league with immediate effect.
Their fixtures for the next two weeks will obviously now not go ahead and all earlier results will be expunged from the league table.
The Reserves were beaten 5-2 at Knighton Town Reserves in a league game on 27 September.
Knighton have had something of a mixed season in 'the South' – their only other win came against a useful Llanidloes Town Reserves side at Bryn-y-Castell when they ran out 3-2 victors.
But they were on the wrong end of a 27-0 defeat by visiting Brecon Corries.
The league table will be adjusted accordingly in the coming weeks.
It is a shame as nobody likes to see any team fold – we had Hay St Mary's pull out of the MMP with Norman Lloyd League earlier in the season and there have been others in recent years so it is a worrying trend for followers of local football.