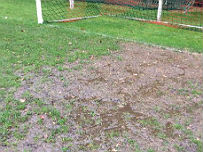 After pitch inspections at both Dolgellau and Llanandras Park on Saturday, 9 November both Presteigne St Andrews FC's MMP with Norman Lloyd League second-division game and the Reserves' scheduled J Emrys Morgan Cup tie have been called off.
Our thanks to Dolgellau for making an early call on the first-team game – they appreciated it was a long way to travel to then find the game was off.
As for the Reserves' J Emrys Morgan Cup, second-round tie at home to Llanfyllin Town this is the second time this game has gone by the wayside so it will have to be factored in at some stage in the next few weeks.
This is likely to have some implications for the Reserves' league programme as the Cup tie would take priority so, as soon as we know of a proposed new date, we will update the fixture list accordingly.
So, no football for Presteigne St Andrews this weekend – given the snow and rain, an afternoon in front of the fire would appear a good alternative.