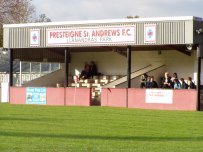 Presteigne St Andrews FC are on the look out for a new club secretary as from the end of this season.
The club is happy to talk with anyone who feels they would rise to the challenge for running the administrative side of what is a busy club.
Anyone who feels they might be suited to the role is asked, in the first instance, to speak to the club chairman Mark Weiland.
The current secretary, Tom Ammonds, indicated at the end of last season he would be looking to step down from the role so he has given the committee plenty of notice.
Tom will remain with the club but is keen to channel his efforts more into the fundraising side of things and building on the success of the Super Lotto that he has instigated and which he oversees.
Among the roles of the secretary are:
The registration and transfer of players on the Comet database (training on this would be given)
Ensuring any players' fines and registration fees are collected and forwarded to the relevant authorities.
Club correspondence and publicity of matches.
Attending league meetings where appropriate.
Arranging of match sponsors for first-team games.
The processing of team sheets for both the MMP with Norman Lloyd League and Mid Wales League (South).
Tom says he's thoroughly enjoyed the role but feels the time has come to pass on the baton to someone else.
"There are times of the year when the secretary's job is busier than others – the registration of players at the beginning of the season is one example," he said.
"The new Comet online system means this is easier in many ways and we would certainly help any new secretary get that up and running.
"Any candidate would need good administration skills and a degree of diplomacy but the rest can be picked up fairly easily!" he added.
So, if you feel you could be the person to take on the secretary's role at Llanandras Park then please contact Mark Weiland on: 07766 576699.